The last few weeks we have been learning about plane shapes and solid shapes. Yesterday I let the kids create their own shape monsters using my little "Shape Monsters" file that you can find on Teachers Pay Teachers. Click on the image below if you would like to download a copy of your own.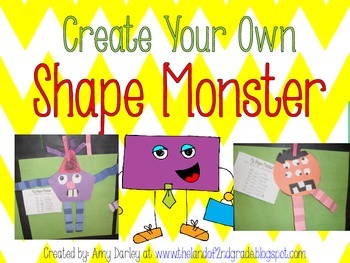 The kids had SO.MUCH.FUN!!! They love it when they can get creative and do whatever they want with their project. I kept getting "Can I make mine a girl?", "Can my monster have more than 2 eyes?", "Can I use 4 different colors?". It was so funny because they are so used to having everything done a specific way. But their little minds went to work and we had some WONDERFUL creations.
After they completed their monsters, they had to fill out the sheet telling how many of each shape they used to create their monster. Then they wrote some really cute stories about their monsters too. It was a great activity for my class.
What a fun day of learning! :)