I know it's not 12/12/12 anymore, but I still wanted to do this linky party... SO I'm linking up with the ladies at "Miss Kindergarten" and "A Teeny Tiny Teacher' for the 12 in 12 linky party. Here are 12 of my favorite things!
(12) Favorite movie you watched
The HUNGER GAMES had to be my FAVORITE movie of the year and right after that would have to be Breaking Dawn Part 2
I am STILL in love with Grey's Anatomy! After all these seasons I would have thought I would fall off the band wagon and get bored... but no! I still cry almost every episode!!!
(10) Favorite restaurant
My favorite restaraunt is probably the mexican restaraunt near my house, Jalapenos. We usually go every Friday night!!! Oh and of course I still LOVE Chick-fil-a!!!
(9) Favorite new thing you tried
This is a tough one... I guess I could say my favorite thing I've tried is making my own Christmas wreath. I found the idea on pinterest and then this is how it turned out:
(8) Favorite gift you got
My favorite gift this year was definitely our hard wood floors! My husband surprised me for our anniversary and had hard wood floors put in our house while we were vacationing at the beach... when we got home I was SO shocked!!!!
(7) Favorite thing you pinned
I absolutely loved this idea of using glitter to make a Reindeer for Christmas decorations...
so I took the idea and decided to do a footprint Rudolph with my 18 month old's foot. He LOVED crafting with his mama :)
Here is a picture of what we did:
I got this one for the fall. I have gotten tons of compliments on it.
(6) Favorite blog post
I absolutely LOVE reading Amy Lemons' blog over at "Step Into Second Grade". This particular post was had some ideas for regrouping that I used in my classroom and the kids absolutely LOVED! Thank you Amy for always having such wonderful posts!
You can read the post here: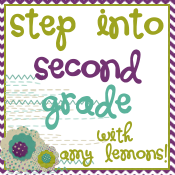 (5) Best accomplishment
Hmm... one big accomplishment is that my little blog has reached 100 followers :) I know that's not a WHOLE lot, but I would just love for my blog to keep growing. I really want to be able to help other teachers just as some of the bloggers I follow have helped me in my classroom!
(4) Favorite picture
(3) Favorite memory
My favorite memory is probably my son's first birthday party. We did a "Where the Wild Things Are" birthday theme and had SO.MUCH.FUN. planning his special day. We enjoyed the day with tons of friends and family who just love my little man! You can read all about his party
here
, on my personal blog.
(2) Goal for 2013
To serve more. I absolutely LOVE getting to serve others, but I don't have the time to do it as much as I would like. I want to clear some things out of my schedule in order to make some time to serve more in the community and at church.

(1) One little word
Blessed
God has truly blessed me and my family, and I could not be any more proud to say that I am a follower of Christ. I am so in love with our God and am truely grateful for all the He has give me.
Hope you enjoyed reading my 12 in 12 :)
Amy