Hey friends! If you are looking for a Skinnybones Novel Unit, go check out my new unit that I just uploaded to Teachers Pay Teachers! It is packed full (80 pages) of EVERYTHING that you need for this unit. It goes along with the CCGPS units for GA, but if you are just wanting a full unit on a novel for 2nd or 3rd grade, then this is great for you too.
THE FIRST 2 PEOPLE TO COMMENT ON THIS POST WILL WIN THIS UNIT!!! (please make sure to leave your email in the comment so that I can send it to you)
Click on the picture below to take you straight to the unit. I hope you enjoy!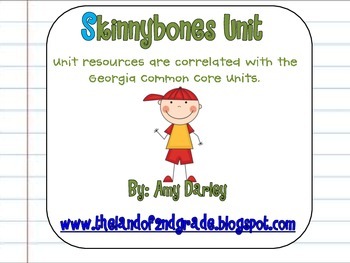 Y'all have a wonderful Tuesday!!!