I'm linking up for the first time on this blog with
What the Teacher Wants
to talk about what I'm SOOOO thankful for :)
1. What are you thankful for in your classroom?
I am thankful for my room moms! They are both soooo wonderful! They come and help me with my copies, cut out TONS of mess for me, file, stuff folders, and even help me with my crafts. I don't know what I would do without them this year!
2. What person are you most thankful for?
I'm most thankful for BOTH my husband and Caycen AKA Baby C, who is 5 months old. My husband is the sweetest man I've ever met and my baby is the best baby ever!
3. What 3 blogs are you most thankful for?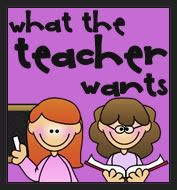 These two girls always have such wonderful ideas to share!
Cara at the first grade parade always has tons of great units and craft ideas! I steal from her ALL.THE.TIME!!!!
Abby, at the Inspired Apple, has the CUTEST ideas! I love her moon unit also!!!
4. What guilty pleasure are you most thankful for?
Chick-fil-a!!!! I know this is bad, but some days I feel like my whole day will be great if I just stop by Chick-fil-a before work and grab a chicken biscuit and Dr. Pepper! YUM!!!
5. What are you most thankful for?
I am most thankful that I have such a wonderful God who has blessed me waaaaaay more than I deserve! HE has given me a wonderful husband, a precious and healthy baby, parents who love me and raised me to be the woman I've become, in-laws who have accepted me into their family and who love my baby so much, a grandmother who let me live with her and helped raise me so that I could go to a good school, a sister who has always been there for me, colleagues who let me cry on their shoulder and help me through the hardest of days, a best friend who would do anything for me and my baby, a small group who I can count on for all of my prayer requests, and forgiveness of my sins so that I can live with HIM in heaven one day.
Thank you to everyone who has read my blog, visited my Tpt store, and just supported me! It really means so much!
Time for you to go link up with What the Teacher Wants! :)
HAPPY THANKSGIVING!!!